Winter is coming and for motorbike enthusiasts that means one thing: it's time to put the bike away until it's warm again. But before you do, there are a few things you can do to avoid that and make sure your bike is ready for winter.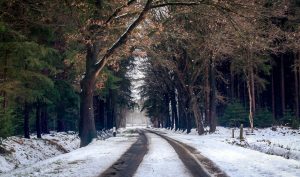 In this article, we'll talk about some tips for winter motorbike riding, including how to choose the best winter motorbike tyres, what winter motorbike clothing you need to stay safe in the cold weather, and how to prepare your bike for winter.
Tips for motorcycle riding in Winter
Motorcycle riding in winter can be a great experience, but it's important to be prepared. Here are our top tips:
Choose the best motorcycle winter tyres
When it comes to motorcycle tyres, there are two main types: winter tyres and all-season tyres. All-season tyres are a good choice for riders who want to be able to use their bike all year round, as they offer decent grip in both dry and wet conditions. Winter tyres, on the other hand, are designed specifically for use in cold weather and provide much better grip on icy or snowy roads.
If you're planning on riding your motorcycle in winter, it's a good idea to invest in a set of winter tyres. They may cost more than all-season tyres, but they'll make a world of difference when it comes to safety and performance. Look for motorcycle tyres with a "winter" or "snow" designation.
Get the best motorcycle gear
Another important thing to consider is the motorbike winter clothing. You'll need to make sure you have clothing that will keep you warm and dry in the cold weather, as well as gloves and a helmet that won't fog up.
There are a few different types of motorcycle gear specifically designed for winter riding:
Waterproof motorbike jacket
A waterproof motorbike jacket is an essential piece of gear for any rider, especially during the winter months. While there are many different styles and brands of jackets on the market, it is important to find one that offers both protection from the elements and a comfortable fit.
Winter motorbike gloves
It is important to include in your gear a good pair of winter gloves.
There are a lot of different options out there when it comes to winter gloves, so it can be tricky to choose the right pair. But if you keep a few things in mind, you'll be able to find a pair that will work well for you and keep your hands warm all winter long.
Material: Look for gloves that are made from waterproof and windproof materials. This will help to keep your hands warm and dry in any condition.
Insulation: Make sure the gloves you choose are well insulated. This will help to keep your hands warm, even when the temperature outside is very cold.
Fit: It's important that the gloves you choose fit well. They should be snug but not too tight, so that you can still move your fingers freely.
WInter motorbike trousers
Some of the best motorcycle trousers for winter are made with a waterproof and breathable outer shell. Many also have a removable liner that can be used for extra warmth on those cold days. When choosing the right pair of pants for your rides, it is important to consider the type of fabric they are made from as well as the features that will keep you comfortable.
Clean your motorcycle for winter:
Before you put your motorcycle away for the season, it's important to give it a thorough cleaning. This will help prevent rust and corrosion from setting in during the winter months.
Make sure your motorcycle is prepared for winter conditions
This means checking the battery, charging system, brakes, and tyres.
Be extra cautious when riding in winter conditions
Take your time and don't take any risks. Be extra cautious when riding your motorbike in winter conditions. Ice and snow can make the roads more slippery and dangerous. Take extra care when braking and turning, and be prepared for unexpected obstacles. Ride at a safe speed and give yourself plenty of time to react to any potential hazards. If possible, avoid riding during or immediately after a snowstorm.
In addition, watch out for black ice, which can be hard to see on the road.
Use your motorcycle headlights
One of the most important parts of a motorcycle is its headlights. In the winter, when the days are shorter and the nights are longer, it is even more important to have good headlights. There are a few things to consider when choosing motorcycle headlights for winter riding.
First, consider the intensity of the light. You want to be able to see clearly, but you also don't want to blind other drivers. Headlights that are too bright can be just as dangerous as headlights that are not bright enough.
Second, consider the beam pattern. You want a beam that is wide and low so that you can see both ahead of you and to the sides. This will help you avoid accidents.
Third, consider the size of the headlight. You want a headlight that is large enough to see, but not so large that it is obtrusive
Finally, consider the style of the headlight. There are many different styles to choose from, so find one that you like and that will complement your motorcycle.
Enjoy the experience! Motorcycle riding in winter can be a great way to get out and explore when the roads are quieter. Just make sure you're prepared and take extra care.